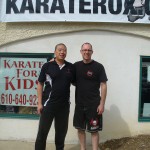 Sifu Kelly Knight and his band of Wing Chun students at the Martial Arts & Fitness Center in Malvern, Pennsylvania welcomed me back to work with them again, as their thirst to learn some good Wing Chun continues. Although a small group, they are a dedicated and enthusiastic bunch, eager to improve their kung fu skills.
The American summer was hotter than it should be so early in the season, but all were ready to get stuck into the training drills necessary to get their skills in good order.
Our brothers and sisters here at the MAFCenter were left with plenty of new material to go with lots of previous drills tied up in a comprehensive package to keep them busy until I can get back to work with them again. They're already planning the next itinerary and hopefully I can get back soon to keep that enthusiasm burning and that dedication pumping. Thanks to all for their participation and thanks to Sifu Knight and his wife, Nancy, for their continued support for our mission!
Click here to see more.