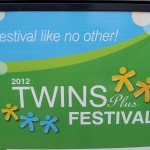 Australia's largest multiple-birth festival, the TwinsPlus Festival,  celebrates those who are rare enough to be born a twin (or more). The event celebrates the joy of multiplicity. Every three years, twins and other multiples from around Australia and the world converge in one place to share their "uniqueness" and a fun day is had by one and all.
The Academy was asked to help out with the celebrations and activities for this year's TwinsPlus Festival, held at the Caulfield Racecourse. We marched out Luigi, our Green Dragon, to help mark this special occasion. Our special thanks to the following for donating their time and efforts to bring some fun and happiness to John, or was it James; and to Minni… or was it Mimi… 🙂
Gratefully, none of these are twins so thanks to (in no special order): Steve Colebrook, Matilda Colebrook, Trevor Cook, Andrew Gurman, David James, Susie Roczo-Farkas, Matias Sandonato, Wesh Tobin, Simo La-Wren Wong, and Logan Wong.
We even got some of the twins to help us out with the dragon – click here!