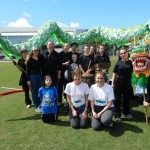 The Academy's Dragon Dance Troupe was an integral part of the 2012 Melbourne Great Amazing Race. The race has become an annual event raising needed funds for Melbourne's Royal Children's Hospital. Our dragon troupe was asked to perform and to create a dragon dancing challenge for this year's competitors.
Simo La-Wren and Trevor combined their imaginations and skills to design and create the dragons for the participants to use for the challenge. Kudos in particular, to Simo La-Wren, for yeoman work above and beyond the call of duty, to get the dragons finished in time for the race.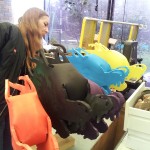 Over 700 participants entered this year's competition and we had our hands full, coaching the teams and then encouraging them to fulfill the challenge. The weather was a bit unstable in the morning, with cool winds, clouds and some light showers. But the day cleared to a pleasant and mostly sunny day.
Thanks to all who helped out on the day – Steve and Matilda Colebrook, Russell and Emma Gill, Matias Sandonato, Susie Roczo-Farkas, Jeremy Yeo, Wesh Tobin, Trevor Cook, and of course, Simo La-Wren Wong. Special thanks for support from members of the Gill family and Logan and Alex too. And of course, thanks to Ellie, Natalie and Gemma, staff members of Uplift Events, for helping to keep the flow of competitors moving along.
To find out how the event turned out and how much was raised for the Royal Children's Hospital, click here.
Click here to visit our photo gallery of the day's activities.