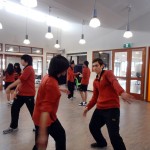 Year 9 students at the new Suzanne Cory High School in Werribee not only have a great new building with fantastic facilities, but they also have a great sport and PE program that invited the Qian Li Dao Academy to run a successful eight-week program of Awareness & Avoidance Skills for Self-Defense.
Over 35 students selected this option for their sport/PE this term, and were introduced to a logical and progressive way to deal with the possibilities of aggression and physical assault. Sifu Wong started the group  by teaching them how to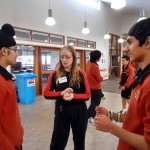 become more aware of their immediate surroundings, identifying potential dangers and possible escape routes.
From there, the participants learned to use voice and language as the next step in preventing a possible attack. Taking into account that many do not choose a life-long study of the martial arts, the program then introduced simple, gross-motor skills that have great potential in dealing with a myriad of attack situations.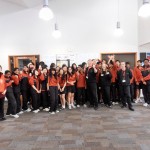 Suzanne Cory High School has already indicated their desire for the Academy to return again in future to run more programs for their students. This program has also successfully been run at Ave Maria College, Aberfeldie; Collingwood College, Collingwood; Gilmore College, Footscray; and Laverton Secondary College, Laverton.
Versions of this program have also been run for staff and participants of the Lighthouse Foundation, as well as for Vic Roads personnel.
Any schools and/or organisations wishing to book an Awareness & Avoidance Program for their students/staff/employees, or want more information on the program – please contact us at: info@qianlidao.com.au.
Click here for more.